ThyroChek® is a rapid TSH blood test that is simple to administer and produces results in just minutes. It can be easily added to your existing practice with support for individual and group-based screening methodologies.

ThyroChek® screens employees with symptoms of hypothyroidism by measuring the level of TSH (thyroid stimulating hormone). It will yield a positive result if the level of TSH is higher than 5 uIU/mL. This is the present day standard for the upper limits of normal for TSH .
ThyroChek® is a rapid immunoassay, similar to a rapid pregnancy test. Using the special pipette, fill to the black line for 50 ml of blood from a finger-stick. Add four drops of buffer and within 10 minutes, a qualitative TSH level is indicated.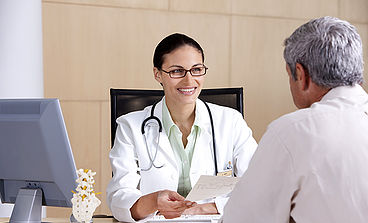 1. Remove the test cassette and pipette from the foil pouch by tearing at notch at corner of the pouch.
2. Place the cassette on a hard flat surface with the windows facing up.
3. Add one drop of whole blood directly into the circular specimen well "S1" located in the middle of the lower portion of the cassette with the pipette provided in the pouch. Discard the pipette after use into a waste container when done.
4. Set timer and wait 90 seconds before proceeding.
5. Add 4 full drops of the Buffer into the oval Buffer well "S2" located at the bottom of the cassette.
6. Set timer for 10 minutes. Do not move the cassette during this time.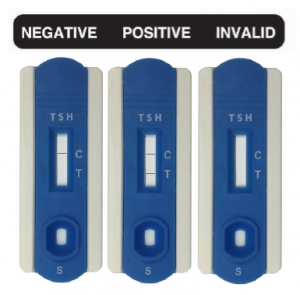 7. At the end of 10 minutes, read the line(s) in the rectangular results window of the cassette.
Do not move the cassette until you have checked the lines. Do not read results after 15 minutes.